Vindigo is a combination of VIETNAM and INDIGO with it's focus at promoting Vietnamese tribal textiles crafts to Sweden. Vindigo offers an array of beautifully handcrafted products, from home decor to bags and tableware, all skillfully made from raw hemp and adorned with delicate embroidery. These items are directly sourced from minority communities, primarily the H'mong group in Northern Vietnam.
The person behind Vindigo is Trang, a Software Developer with a deep appreciation for H'mong fabric artistry. Trang believes that one way to preserve the skills and talents of local artisans and to inspire young people to carry on the tradition is to make sure their remarkable creations find their way into the hearts of more people.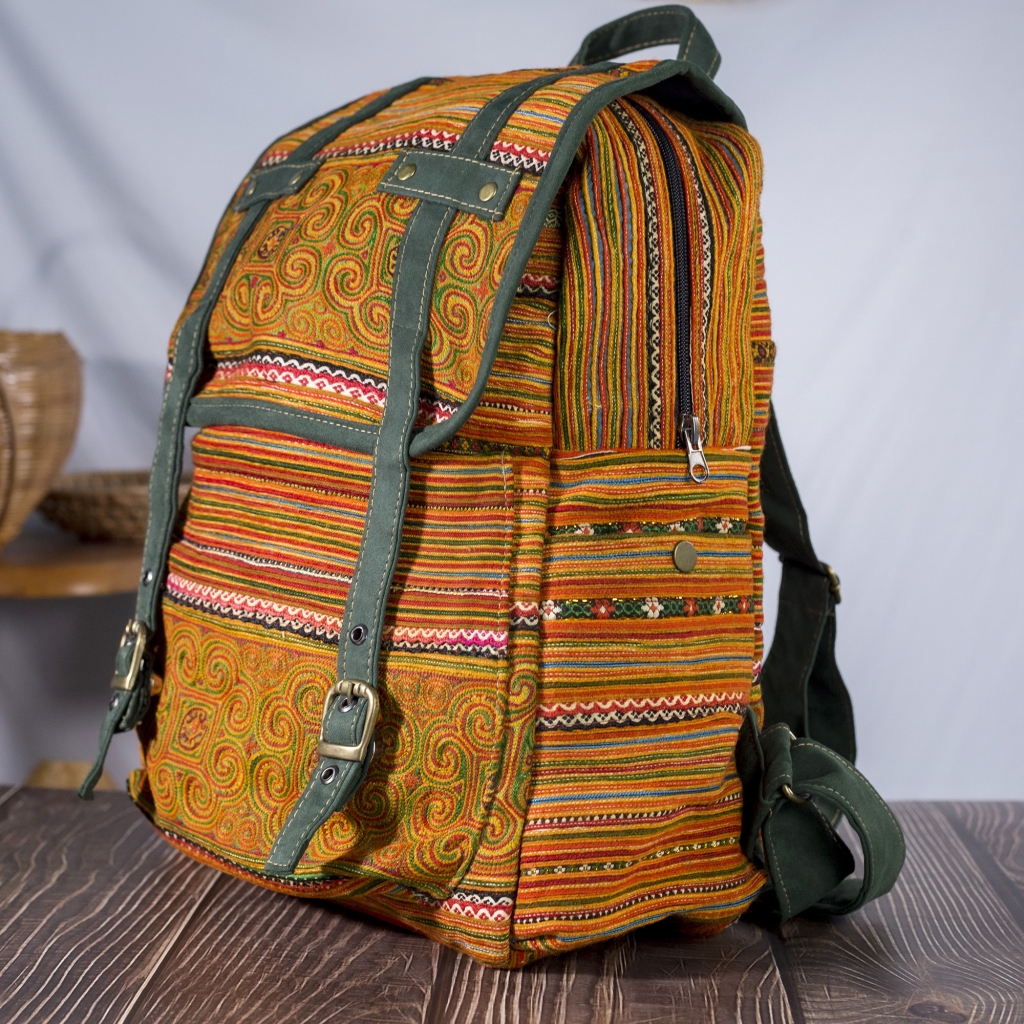 Big-sized backpack, orange hand-embroidery fabric
Dimension: L42 x H35 x W12 Material: cotton, embroidery, faux leather Our exquisite embroidered backpack is skillfully crafted by H'mong artisans with a full-body H'mong pattern embroidery.
This backpack is more than just a functional accessory – it's a stunning piece of art that makes it a conversation starter wherever you go. It is spacious enough to hold all your daily essentials and has multiple compartments to keep everything organized.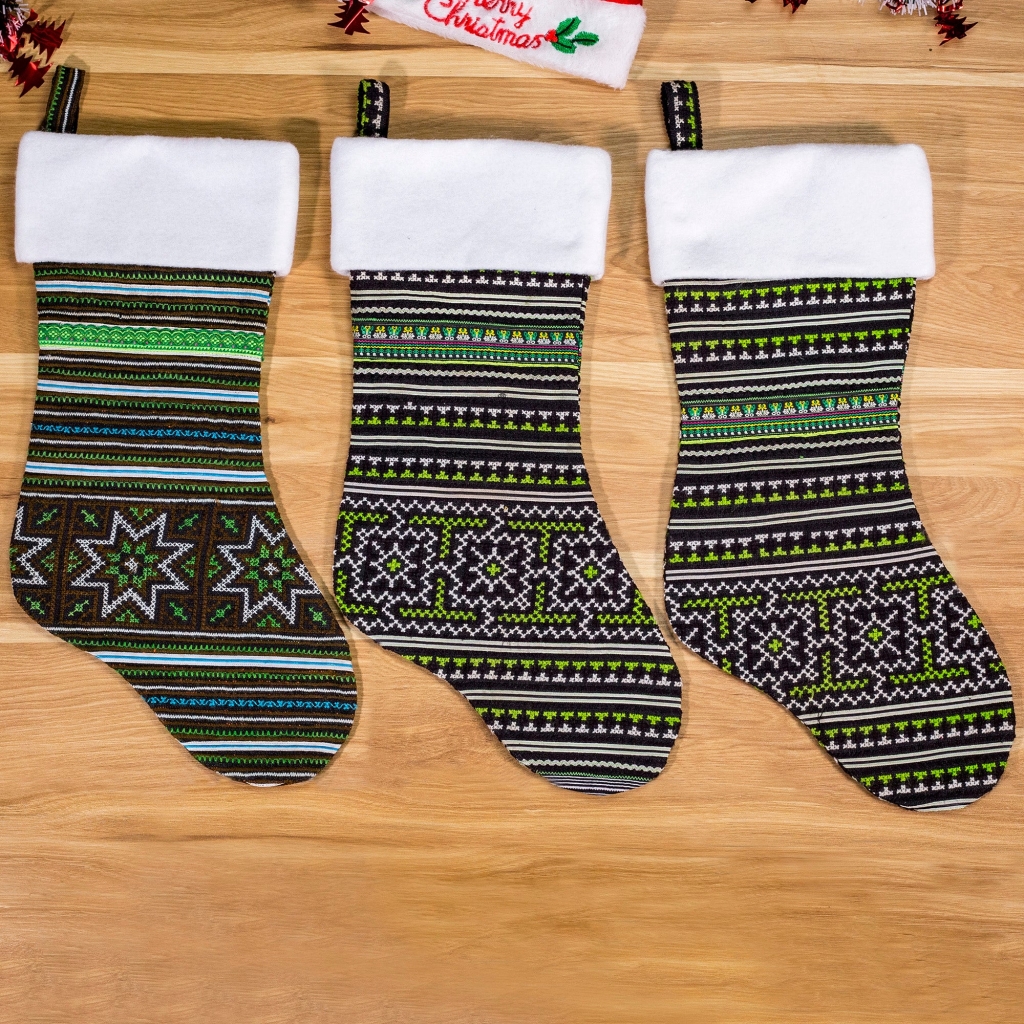 Hand-embroidered Xmas stockings
Measures: L46 x W25.4 cm Material: Hand-embroidery tribal fabric Unique stockings are made from authentic H'mong tribe fabrics with cross-stitched embroidery on both sides.
They are special Christmas decorations where you can put Christmas gifts for your family.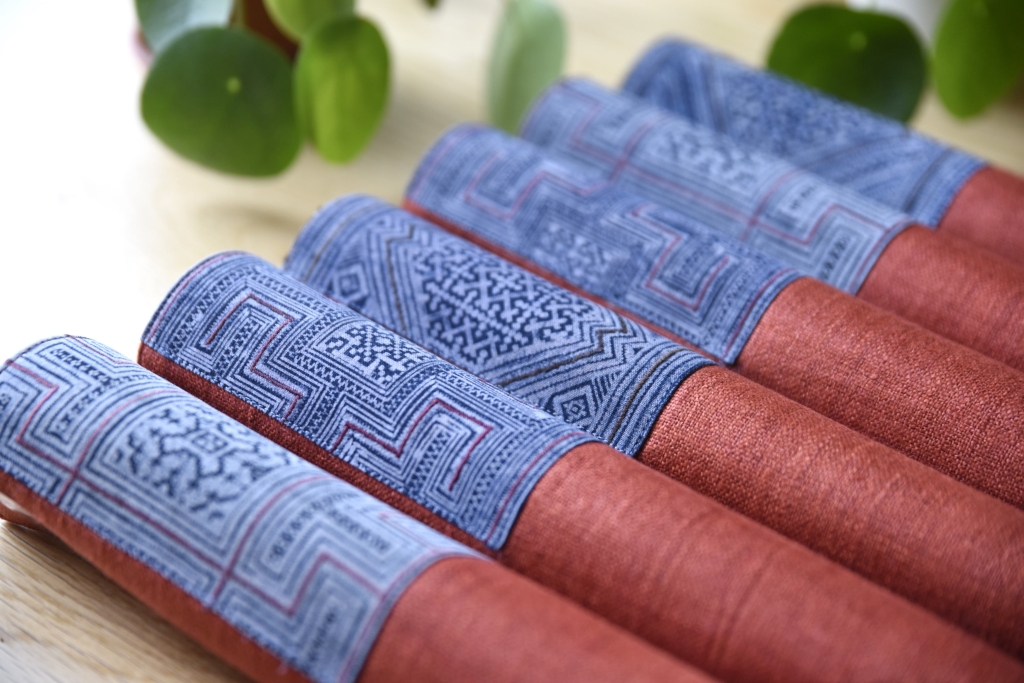 Bordeaux Red hemp placemat, vintage batik indigo patch, hand-woven hemp fabrics
Handmade by artisans in Northern Vietnam Material: Hand-woven Hemp fabric Size: 30 x 45 cm.
The placemats are made from organic hemp and woven by hand by tribal artisans in northern Vietnam The color is naturally dyed with plant-based materials The decoration patch is a batik pattern repurposed from authentic H'mong fabric.
The batik motifs are drawn by using beeswax and then colored in the indigo extract. Each patch is one-of-its-kind The reverse side is made from cotton.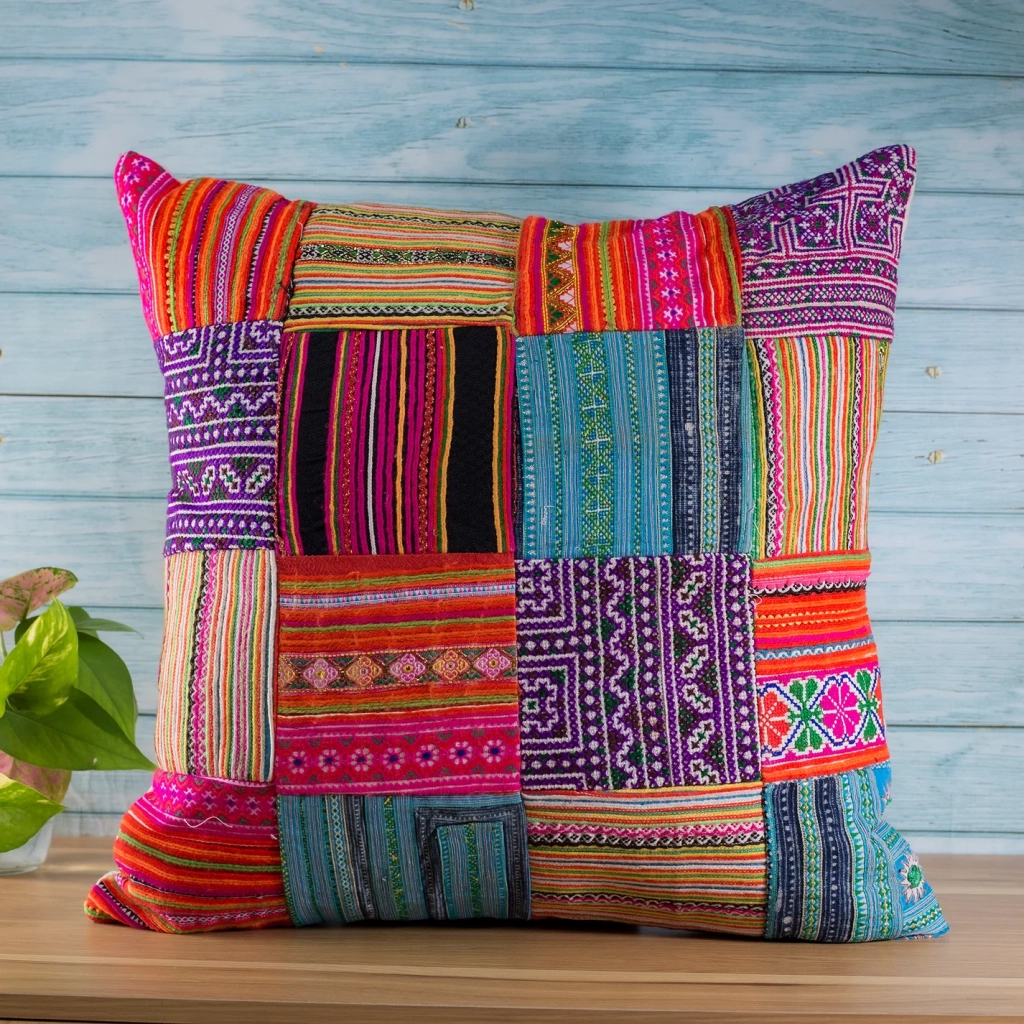 Patchwork cushion cover from embroidery fabric
Measure: 45 x 45 cm
Occasions: Throw cushion, sofa cushion cover, couch cushion, decoration pillow
Beautiful patchwork made from repurposed H'mong hand-stitched fabrics. It is a combination of fabrics from various H'mong ethnic groups: Blue H'mong, Flower H'mong, and Red H'mong…
The Inner fabric layer behind the front side of the pillow is to provide better protection for the pillow insert again dirt, dust, and stains.The back side is high-quality cotton. The zipper is on the back side. 
Are you a maker or creative who would like to join a future market ?