About me:
Founder Gisel Reggianini curates natural vintage, preloved designer, & handcrafted pieces. By personally sourcing, customizing, styling, & modelling the collection;
Gisel highlights vintage through a latin lens.
Suit of Lights pulls inspiration from around the world. The brand crafts a fresh narrative for the feminine identity & vintage style. The assortment is a nod to the rich history of natural fibers, selected with a focus on sustainability.
Orders are prepared with eco packaging, aligning with the brand's mission to reduce plastic consumption. Better for us & better for the planet.
Explore a new vintage concept, shop Suit of Lights Vintage.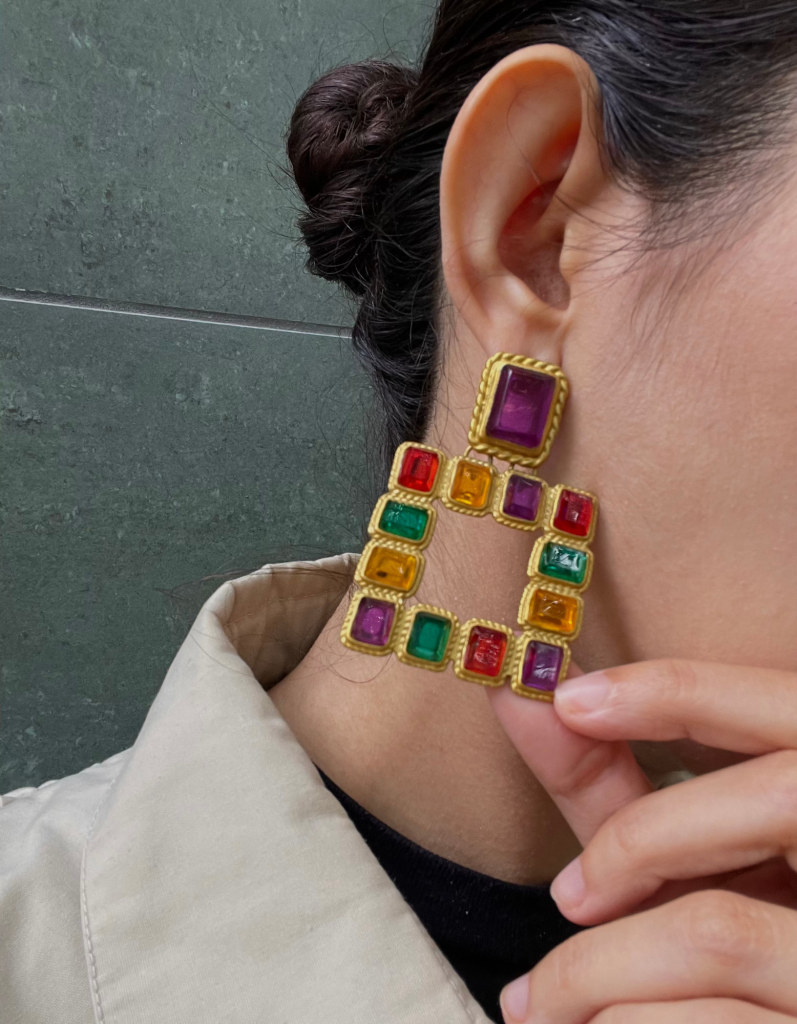 Vintage Dinner Party Earrings
Here's a beautiful 90s vintage set of cocktail earrings. Features a Rope Knot trim in metal with crystal decoration. Multicolor. Meant for pierced ears.
Make a statement with a sleek bun & blazer combo. Excellent Condition.
*7 CM/ 2.8 IN Length
*5 CM/ 2 IN Width
1800 SEK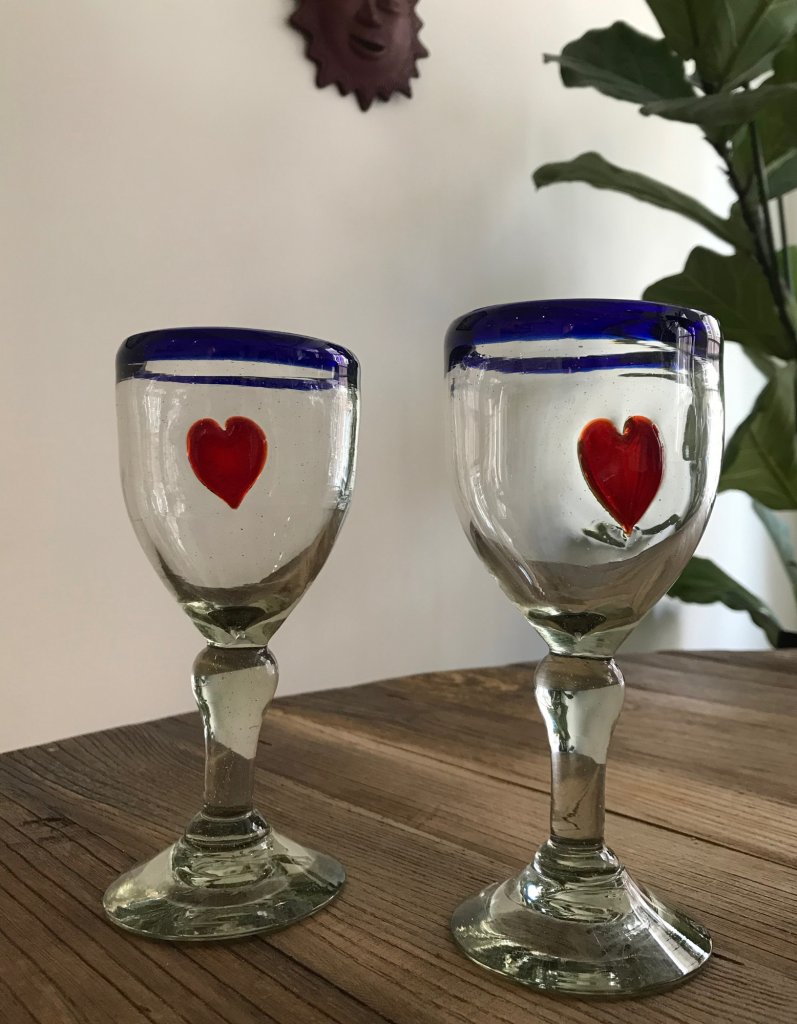 Vintage Set of Mexican Glasses
Artisanal Glasses. Traditional Mexican Blue Trim with Heart Motifs. Made in Mexico. Set of 2. 100% Recycled Glass
Excellent Condition
18 x 8 CM / 7 x 3.5 IN Per Piece
900 SEK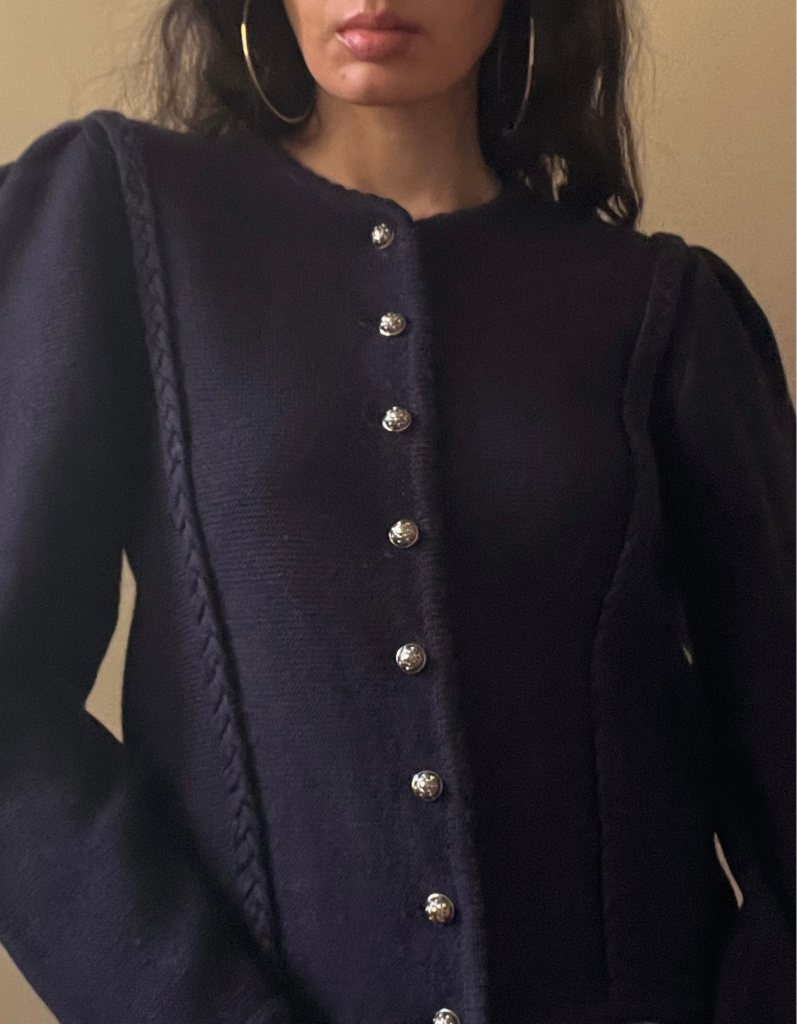 Vintage Navy Austrian Wool Knit Cardigan
Romantic Wool Cardigan with Decorated metal buttons. 100% Wool with Cable Knit Details. Sweet, Feminine Puff Sleeve. Made in Austria. Excellent Condition.
Best Fits Size Medium, see flat measurements for reference.

54 CM/ 21.3 IN Length
63 CM/ 24.8 IN Sleeve
46 CM/ 18.1 IN Shoulders
88 CM/ 34.6 IN Chest
84 CM/ 33.1 IN Waist
1200 SEK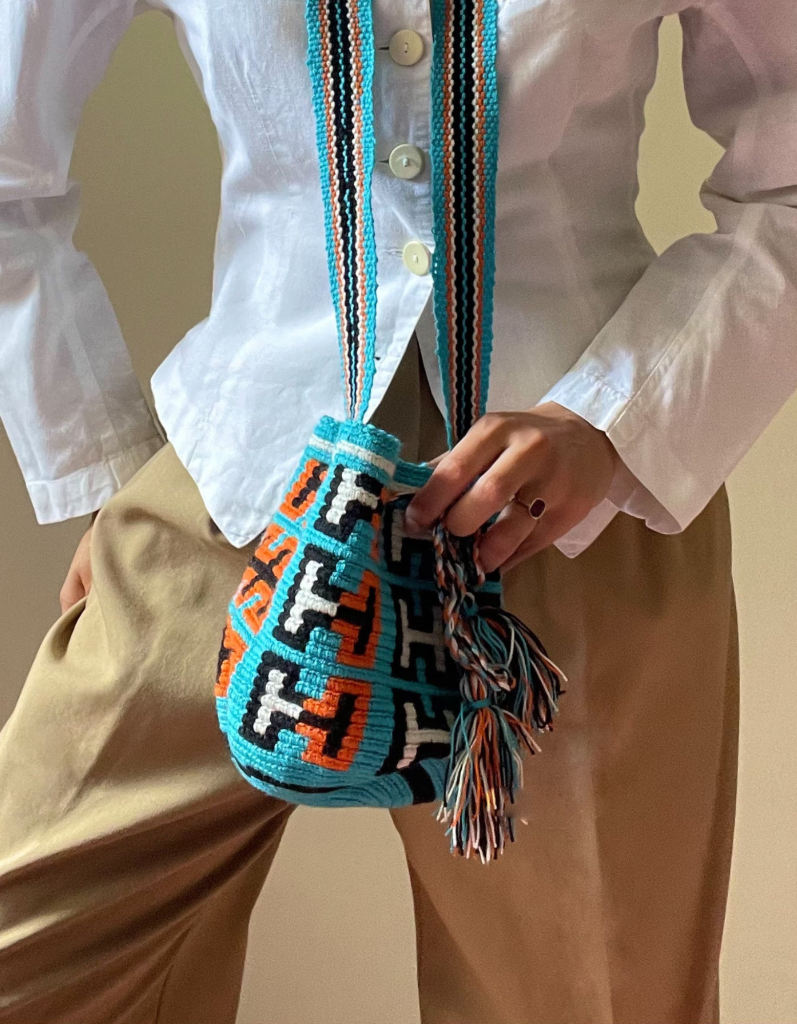 Vintage Colombian Mochila Drawstring Chiquita Bag
This mini bucket bag is constructed in Colombia with colorful threads made of Cotton and Aloe. A perfect gift for yourself, a friend, or loved one.
It has a beautiful abstract design and is the perfect size to hold your phone and personal items.The drawstring can easily be adjusted to secure your belongings.
Excellent Condition.
Chiquita Size (Small)
70 CM/ 27.6 IN Length
21 CM/ 8.3 IN Width
51 CM/ 20.1 IN Drop
750 SEK
Are you a maker or creative who would like to join a future market ?