Hi!
My name is Desirée. Two years ago I got more involved in feminism, during this period I was also starving creatively. I decided to combine feminism with jewelry making, something I had been interested in trying for a while, and unpacked my old polymer clay.
The main focus at first was feminist jewelry but I have since expanded and now make statement jewelry in several shapes. I make feminine statement jewelry that catches one's eye.
Everyone deserves to express themselves and take up space and my jewelry is a classy way to do it. New for this market is female symbol sculptures in the same style as the granite terrazzo earrings but with gold edges!
Granite female sign earrings
These earrings in the form of female symbols with a granite pattern is a beautiful and unique way to express your personal style. They have a soft texture and a matt surface that gives an elegant and sophisticated look. They are perfect for work, party or everyday.
Since they are lightweight they are comfortable to wear all day, you might even forget you are wearing them! Match them with our necklaces in the same collection to complete the look. They are also available in mint or mauve.
The metal is gold plated stainless steel. The symbol is about 5,5 cm long. Price: 389 kr (pink), 379 kr (mint, mauve).
Dessa örhängen i form av kvinnotecken med granitmönster är ett vackert och unikt sätt att uttrycka din personliga stil. De har en mjuk textur och en matt yta som ger en elegant och sofistikerad look. De är perfekta för att bära på jobbet, till fest eller till vardags. Då de är lätta är de bekväma att ha på sig hela dagen, det finns till och med en risk att du glömmer bort att du bär dem! Matcha med ett halsband ur samma kollektion för en fulländad look. De finns också i mintgrön eller lila. Metalldelar i guldpläterat rostfritt stål. Hänget är cirka 5,5 cm långt. Pris: 389 kr (rosa), 379 kr (mint, lila).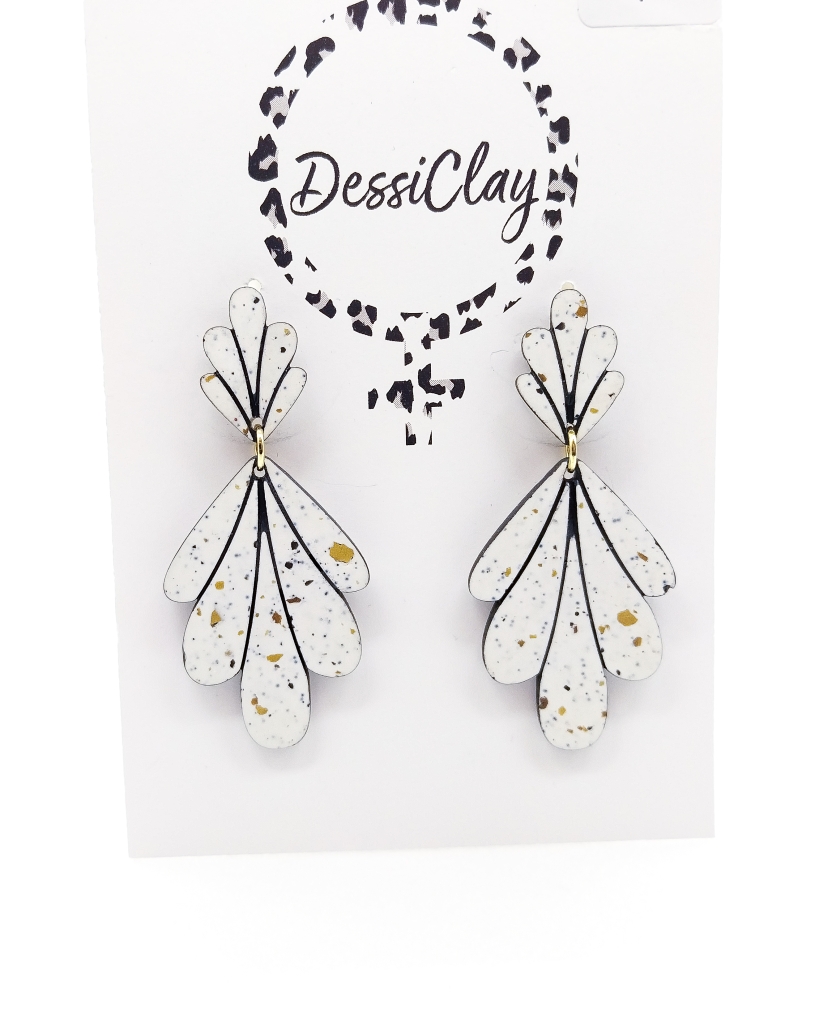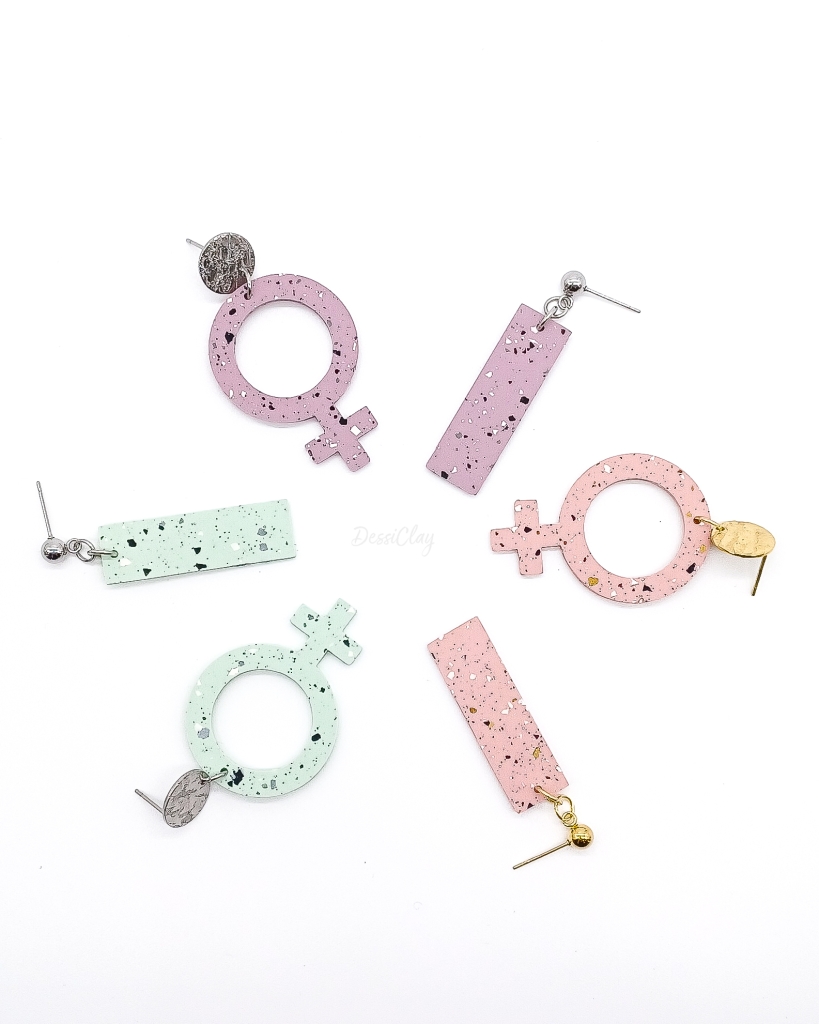 Art Déco granite leaf, earrings
Our earrings with a granite pattern is a perfect choice for the modern women who wants a unique style. These earrings have an Art Déco inspired leaf shape that gives them a timeless feel. The big earrings are beutiful and elegant and are fit for every occasion – to complement a party outfit or elevate an everyday look. They are also lightweight and comfortable so you can wear them all day without having to worry about sore earlobes.
The metal is natural or gold plated stainless steel.
They are about 6 cm long.
Available in pink, mint or white.
Price: 449 kr (pink, white), 439 kr (mint).

Våra örhängen i granitmönster är ett perfekt val för den moderna kvinnan som vill ha en unik stil. Dessa örhängen har ett Art Déco-inspirerat lövmotiv som ger dem en tidlös känsla. De stora örhängena är vackra och eleganta och passar perfekt till alla tillfällen, för att komplettera en festoutfit eller höja vardagslooken till nästa nivå. De är lätta och bekväma, så du kan ha dem på dig hela dagen utan att tynga ner örsnibbarna.
Metalldelarna är i vanligt eller guldpläterat rostfritt stål.
Hänget är strax under 6 cm långt.
De finns i rosa, mintgrön eller vit.
Pris: 449 kr (rosa, vit), 439 kr (mint).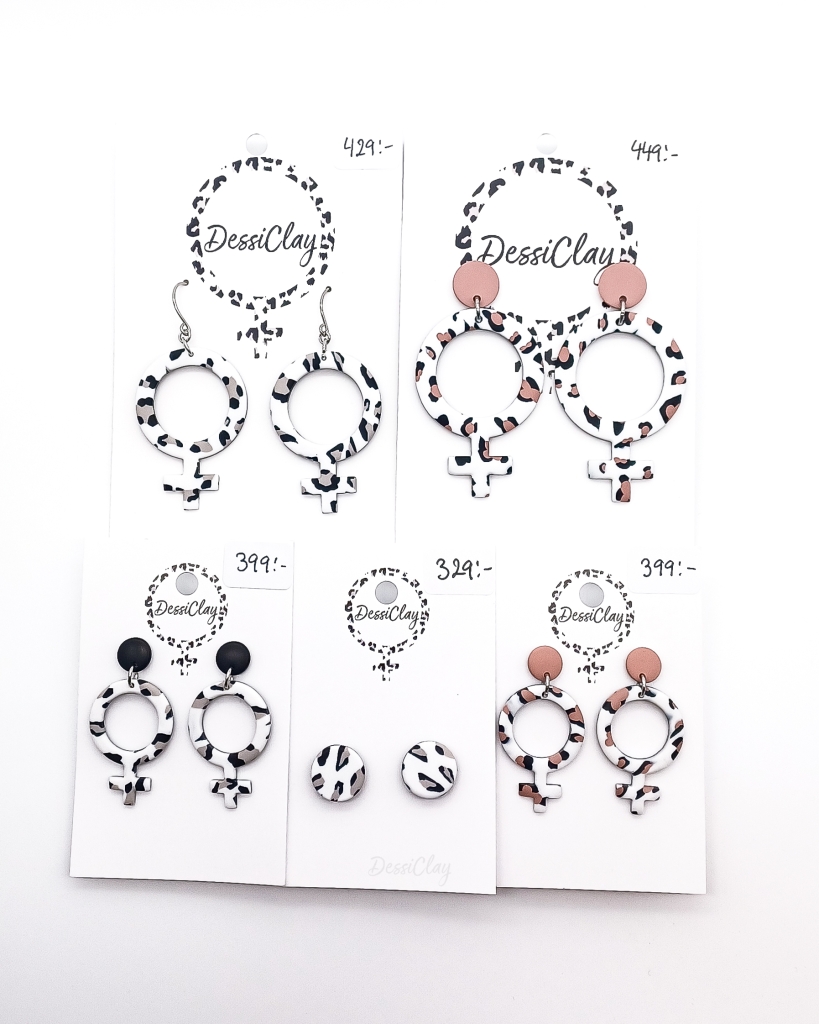 Leopard print female symbol earrings
Earrings in the form of leopard printed female symbols are the perfect way to show your personal style. With these earrings you can add a feeling of playful glamour. The leopard print gives them a modern and trendy look. They are perfect for every occasion, from everyday activities to special occasions. They are a must-have-accessory that will give you the flashy look you are after.
They are available in three sizes: 5, 4 or 3 cm long. Choose between hooks or pins! The metal is stainless steel. Price: 449 kr (big), 429 kr (medium), 399 kr (small).
Örhängen i form av kvinnotecken med leopardmönster är det perfekta sättet att visa upp din personliga stil. Med dessa örhängen kan du addera känslan av lekfull glamour. Örhängena har ett leopardmönster som ger dem en modern och trendig look. Dessa örhängen är perfekta för att bära till alla tillfällen, från vardagliga aktiviteter till speciella evenemang. De är en måste-ha-accessoar som kommer att ge dig den flashiga looken du är ute efter. De finns i tre storlekar: 5, 4 eller 3 cm långa. Välj mellan krok eller stift!
Metalldelarna är i rostfritt stål. Pris: 449 kr (stor), 429 kr (medium), 399 kr (liten).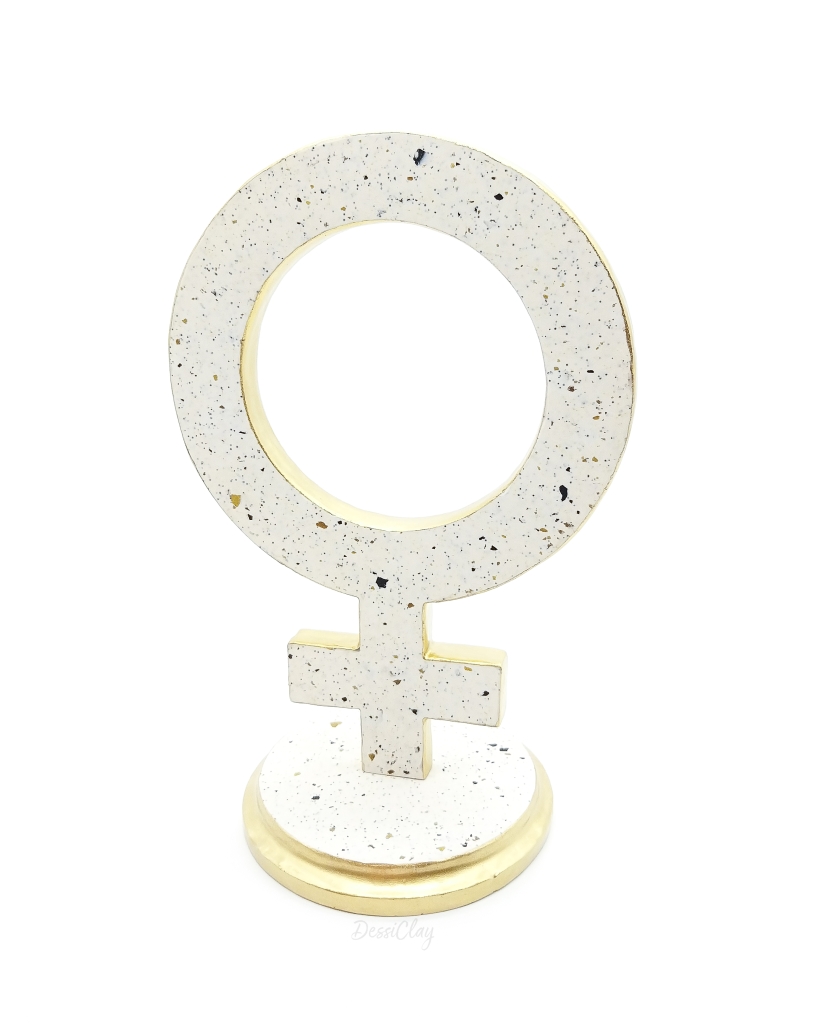 Sculpture, granite female symbol
Express your style and beautify your home with this gorgeous female symbol sculpture. The matt granit patterned surface combined with the gold edges gives an elegant and glamorous look.
The sculpture is about 15 cm tall and the symbol can be separated from the bottom. It is available in white or pink. Price: 549 kr.
Uttryck din stil och förgyll ditt hem med denna vackra kvinnotecken skulptur. Den matta granitmönstrade ytan tillsammans med de guldiga kanterna ger en elegant och glamorös look. Skulpturen är ca 15 cm hög och symbolen kan separeras från botten. Den finns i vitt eller rosa.
Pris: 549 kr
Are you a maker or creative who would like to join a future market ?